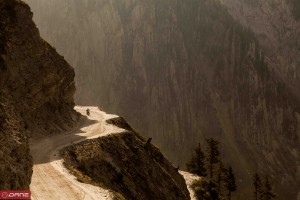 DANE TROPHY TRANSHIMALAYA
Die DANE TROPHY TRANSHIMALAYA 2018 findet vom 06.08.-17.08.2018 statt (zzgl. An- und Abfahrtstage)
WILLKOMMEN BEI EINER DER FASZINIERENDSTEN MOTORRADREISEN DER WELT.
Unsere Reise führt uns durch das SPITI VALLEY, auf den MANALI-LEH Highway bis nach SRINAGAR.
Den exakten Tourverlauf findest Du in deutscher und englischer Version unten auf dieser Seite!
Wir freuen uns, wenn Du dabei bist und garantieren Dir, dass Du diesen Tour niemals vergessen wirst.
Der Preis beträgt € 3.199,- zuzüglich Flug (abhängig vom Buchungsdatum cirka € 600,-).
Bei einer Buchung vor dem 31.12.2017 beträgt der Preis € 2.999,- zuzüglich Flug.
Die Teilnehmerzahl ist auf 25 begrenzt. Derzeit haben wir 15 Anmeldungen.
Im Preis enthalten sind alle Kosten der Tour: Das Motorrad, Benzin, die Begleitung durch einen deutschen Arzt, Übernachtungen (im Doppelzimmer) und 3 Mahlzeiten inklusive Getränke (Wasser).
Alle weiteren Infos unter: Fragen zur Transhimalaya
Zur Buchung der DANE TROPHY TRANSHIMALYA geht es hier: Buchung Transhimalaya 2018
Den ersten Teil der Anreise in das Himalaya Gebiet werden wir mit dem sogenannten TOY TRAIN zurück legen. Eine schmalspurige Eisenbahn aus der Kolonalzeit.
ACHTUNG: Die meisten Flüge nach Dehli landen kurz vor oder nach Mitternacht! Ankunft am Dehli Flughafen spätestens in der Nacht vom 06.08. auf den 07.08.!
Abfahrt des Zuges gen Himalaya: 7:00 Uhr am 07.08.2018.
Tourverlauf / Detailed itinerary

(Hinweis: Die Bilder sind alle auf der Transhimalaya Trophy aufgenommen, aber entstammen aber nicht immer der jeweiligen Tagesetappe)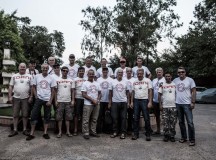 Tag 00 (05 August 2017, Sonntag): Ankunft in New Delhi, India (international Arrivals)
Die meisten Flüge erreichen Dehli gegen Mitternacht. Ein Repräsentant der Organisationsfirma wird Dich am Flughafen abholen und zum Hotel bringen. Dort werden wir übernachten.
Most of the flights arrive in the midnight (at the night from sunday to monday, 10.07.-11.07.) representative of Motorcycle Expeditions will meet and greet you at IGIA, New Delhi on arrival transfer to hotel. Overnight at the Hotel in Delhi.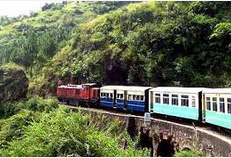 Tag 01 (06 August 2018, Montag): Von Delhi nach Kalka und von Kalka nach Shimla mit dem Zug.

Die Tour startet mit einem Hotel Check Out um 6:00 Uhr morgens mit der Fahrt (per Bus) zum quirrligen Bahnhof von Dehli. Der Zug startet um 7:40 Uhr. Spätestens jetzt solltest du zur Himalaya Gruppe dazu stoßen. Frühstücken und Mittag esssen werden wir im Zug. Die Anreise in die Himalaya Region wird den ganzen Tag andauern. Die fantastische Landschaft und die Vielfalt und Geschäftigkeit Indiens wird aber dafür sorgen, dass wir uns nicht langweilen werden. Übernachten werden wir in Shimla.
Check out early morning at 6 am; depart to impressive railways station of New Delhi. Your train from New Delhi will leave at 07:40 am on 11th July 2016. You will have breakfast in the train, afternoon lunch in the train, one can just come out of the train and pick the Indian spicy and hot fast food, on the way; it's a long drive in the plain of Punjab toward the foothill of Pir-panjal Himalayan hills. By evening reach Shimla, night at hotel. Overnight at hotel in Shimla.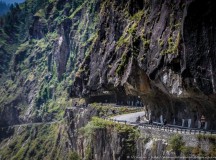 Tag 2 (07 August 2018, Dienstag): Von Shimla nach Sarahan (2500m Höhe), 190km, 6/7 Fahrt.
Der Tag startet mit einer Einführung in die Funktionsweise der Motorräder und den Besonderheiten des indischen (Links-)Verkehrs. Die erste Etappe führt uns auf 2500m Höhe durch die schattigen Kieferwäldern nach Narkand. Dann geht es sanft abwärts auf der Hauptstrecke von Shimla Richtung Kinnaur im Spiti Tal. Wir übernachten in Saharan, einem pittoresken Ort in der Region Himachal Pradesh. Dort besuchen wir den Tempel der Gottheit Bhimakali. Wir übernachten in einem Gasthaus oder Camp.
After breakfast Motor bike will be provided to each individual and a briefing on motorcycle and roads will be given by your guide, we don't ride in India the way you ride back in Europe.
And you will explore the shady scenic road goes up to the Narkand (2500 mtrs) through the pine forest. A gentle descend through outer side of villages to join the Main road from Shimla leads to Kinnaur –Spiti. Continue to Sarahan the summer capital of the Rampur Busheher. Visit 1500 years old temple of goddess Bhimakali and one gets a magnificent view of the Shir Khand peaks, night at guest house or camp.
Overnight at Hotel in Sarahan.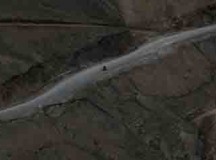 Tag 03 (08 August 2018, Mittwoch): Von Sarahan nach Kalpa (3450m) 140 kms.

Der Tag 4 führt uns nach Kalpa. Eine der Attraktionen der Route ist der als heilig geltende Kinnaur Kailash Berg. Eine 70m hohe "Shiva Lingam" ziert die Spitze des Berges. Eine Shiva ist eine der höchten Gottheiten des Hinduismus. Eine weitere Attraktion ist der Baspa Fluß in 3000m Höhe im Sangla Valley.
Morning after breakfast it's time to ride for Kalpa. One of the prime attractions of Kalpa is the Kinnaur Kailash Mountain also known as the Kinner Kailsh Mountain in the local language. It is considered to be sacred by the locals of the region. A Shiva Lingam measuring 70 m in height sits on top of the peak which attracts a large number of devotees and tourists all year round. The Sangla Valley situated on the banks of the Baspa River is another prominent attraction, which rests at an altitude of 8900 ft above sea level.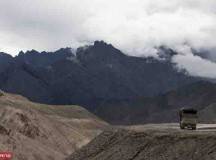 Tag 04 (09 August 2018, Donnerstag): Von Kalpa nach Kaza. (3050- 200km) 7-8h.

Am Tag 4 machen wir uns zunächst auf den Weg nach Recongpeo, der Gebietshauptstadt. Wir erreichen dabei erstmals begrenzt zugängliche Regionen, die nur mit einer offiziellen Erlaubnis befahrbar sind. Der Checkposten liegt in Jhangi. Entlang des Spiti River führen uns schroffe Routen in größere Höhen nach Tabo, einem 996 gegründeten buddhistischen Kloster, dem "Ajanta" des Himalaya. Ajanta sind Höhlentempel mit gut erhaltenen Wandmalerein aus dem Leben Buddhas, die zum Weltkulturerbe ernannt wurden. In Tabo werden wir unser Mittagessen einnehmen.
Auf unserem Weg liegt dann Dhankar, ein spektakulär, auf einem 300m Hügel gelegenes buddhistisches Kloster (Gompa).
Wir übernachten in Kaza im Hotel.
Leave to Recongpeo the district headquarter, today we are entering in restricted area there for inner line permit and passport will be checked at check post at Jhangi.. Gorgeous route leads via Khab where Sutlej river entre in India and merge in to Spiti river. Uphill and cliffy road high over spiti River till Nako, the most charming village offers a magnificent view around. To the north of the village is the monastic complex belonging to the Drugpa order.
After cliffy road, driving through several villages till Tabo, Monastery has been founded in 996 A.D. often called the Ajanta of Himalayas. In Trans Himalayas Buddhism, Tabo sanctity is next only to Tibet's Tholing gompa. Explore the village by foot, evening join the ceremony (Puja) in monastery complex. You will have lunch in Tabo and continue to Kaza.
Dhankar the ancient capital of Spiti king, the most incredibly situated gompa, perched high on the barren rocky mountain slopes.. Lalung :- The second most interested monastery of Spiti afternoon reached Pin valley known for its national park (house of the snow leopards, and ibex) Kungri gompa is the main centre of Nyingmapa sect in Spiti. Night in Kaza the sub divisional headquarter of Spiti.
Dinner & overnight at Hotel in Kaza.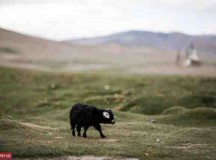 Tag 05 (10 August 2018, Freitag): Von Kaza nach Jispa (2000m), 220 km.

Tag 5 führt uns weiter durch das Spiti Valley bis zum Kunzum Pass auf 4700m Höhe. Mit einem Blick auf die schneebedeckten Berge des Chandra Valleys. Die Strecke von Kunzum Pass zu unserem Tagesziel Jispa ist eine leichte Offroad Strecke. Abendessen und Übernachtung in einem Hotel in Jispa. In Jispa sind wir wieder auf dem legendären Manali Leh Highway.
Road leads through several villages of the Spiti valley, last village of the valley is Lossar Short uphill drive till Kunzum pass (4700 m.) offer extensive view of the snow caped mountains continue by Chandra valley. The terrain condition from Losar village to Gramphu over Kunzumla is an off-road boon for motorcyclists continuous ride to Keylong the tribal dist headquarter of Lahul valley.
Dinner & overnight at hotel in Jispa.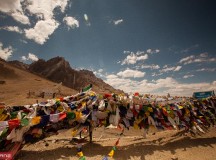 Tag 06 (11 August 2018, Samstag): Von Jispa nach Tsokar (4200m), 240 km.

Nach einem weiteren Checkpoint folgen wir der kurvigen zum Barachala Pass auf eine Höhe von 4890m! Dann geht es zunächst einmal wieder runter nach "Bharatpur" zum Mittagessen.
Einer der spektakulärsten Etappen auf dem Manali Leh Highway beginnt gleich hinter dem Ort Sarchu, in die Bundesstaaten Jammu und Kashmir. Wir überqueren den Lachlung-La (5.059 m) und den Nakee-la und erreichen dann die More Plains, einen 42km lange Hochebene. Über eine sandige, aber gut befahrbare Route geht es dann zum Tso Kar See, an dem wir in einem Camp übernachten werden.
Stop at the police check post & then we follow winding road until Baralacha. We cross one of the toughest pass of the journey: the Baralacha pass, lies at 4,890 meters and catch stunning views…Then we descend to "Bharatpur" for a well-deserved chai break and hot lunch. The most awesome part of the trip on the Manali-Leh highway begins right after Sarchu, in the Jammu and Kashmir state. The Gata Loops – a succession of 21 hair pin bends – will lift you 1,500 feet higher and thereafter; the Lachlung-la (16,616 feet) and Nakee-la (15,547 feet) passes will lead you to More Plains, a 26 mile (42 km) extension of the Changthang plateau. You cut across a sandy track on your right leading you to Tso Kar Lake. The Tso Kar basin has a long mix of meadows and marshy land. It has fresh water and a brackish lake, several natural springs and streams. Migratory birds also use the lake as their breeding ground. Apart from its sheer beauty, Tso Kar is known for the Indian and Tibetan nomads who live here in the winter months.
Dinner & overnight at Hotel/Camp in Tsokar.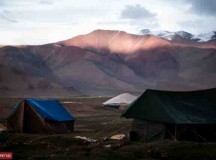 Tag 07 (12 August 2018, Sonntag): Von Tsokar nach Leh (3500m), 160 km.
Durch Tsokar geht es heute Richtung Leh entlang des majestätischen Indus River. Wir treffen Changpa Nomaden, die traditionell von der Aufzucht von Schafen und Ziegen leben. Seit Jahrhunderten in Harmonie mit der Natur des Himalaya. Wir übernachten dann in Leh, der lebendigen Hauptstadt der Region Ladakh. Eine faszinierende Regionalhauptstadt mit vielen internationalen Backpackern und Himalaya Reisenden.
Today we have to ride through Tsokar to Leh. The Changpa nomads live in Yak-wool tents and make a living out of rearing sheep and goat. Their yak-milk tea is worth tasting and you should definitely visit one of the Changpa campsites to get a first-hand experience on how these amazing human beings have been living in perfect harmony with nature for centuries. After spending time at the nomadic campsite, you can ride alongside the majestic Indus River to Leh. Dinner & overnight at hotel in Leh.
Tag 08 (13 August 2018, Montag): Von Leh auf den Khardung La (5602m) und zurück, 80 km.

Heute erreichen wir das Ziel unserer Reise: den höchsten befahrbaren Paß der Welt, den Khardung La. Eine gut befahrbare, fantastische Strecke, die uns auf eine Höhe von 5602m bringen wird.
Von dort geht es am Nachmittag wieder zurück in das cirka 50km entfernte Leh, so daß wir genügend Zeit haben werden, die einmaligen Eindrücke auf uns wirken zu lassen. Übernachten werden wir wieder in Leh.
After a good rest and hearty breakfast it's time to tackle the Khardung La, the world's highest motorable road at 5602m. It is tarmac all the way and it is usually in excellent condition. The Himalayan Hero tour of 2013 switched off their engines and rolled all the way from the top to their hotel in Leh. Rolling silently at speeds of upto 70km/h was an entirely new experience and was the highlight of the tour for many. You will arrive back in Leh in the afternoon with plenty of time to explore the many sights it has to offer. We have dinner and stay overnight at a hotel in Leh.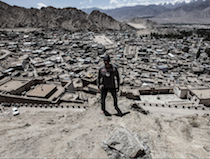 Tag 9 (14 August 2018, Dienstag): Leh

Ruhetag in Leh. Leh gehört zu den höchstgelegenen ständig bewohnten Städten der Erde. Es bietet sich die Gelegenheit die quirrlige Backpackerstadt oder den alten Kaiserpalast oberhalb von Leh zu erkunden. Empfehlenswert ist auch ein frühmorgendlicher Ausflug zu der ebenflass oberhalb von Leh gelegenene Shanti Stupa. Wir übernachten in einem komfortablen Hotel.
Rest day in Leh. Leh is one of the highest inhabited cities on earth. It is an opportunity to explore the quivery backpacker city or the old imperial palace above Leh. We also recommend a morning trip to the Shanti Stupa, which is situated just above Leh. We stay in a comfortable hotel.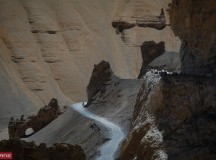 Tag 10 (15 August 2018, Mittwoch): Von Leh nach Kargil (2676m), 230 km.

Von Leh aus, geht es in die muslimische Region des Himalaya nach Kargil. Unser Mittagessen werden werden wir in dem beeindruckenden Lamayauru Kloster einnehmen.
Am Nachmittag gibt es dann noch einen zusätzlichen Stop in Mulbek, wo wir ein kleines, beeindruckendes buddhistisches Kloster besuchen werden. In Kargil werden wir in einem Hotel übernachten.
After breakfast we ride to Photoksar which was the earlier trekking route to Zanskar. This is new road which is rarely explored by riders or tourists. We continue along the same road back to the Impressive Lamayuru Monastery. We have lunch and continue ride to Kargil. We will stop at Mulbek to visit the small but impressive Buddhist monastery. Tonight we will stay in a small Islamic town called Kargil. You are free to go for a stroll through town after dinner. We stay overnight at a Hotel.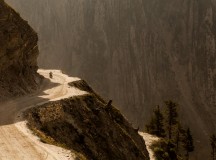 Tag 11 (16 August 2018, Donnerstag): Kargil nach Srinagar (1585m), 202km.

Am Tag 11 starten wir früh am Morgen, um den fantastischen Zoji La (3033m) zu überqueren. Auf unseren vergangenen Touren war dieser Paß immer ein eindrückliches Erlebnis. Deutlich mehr Vegetation, unglaubliche Paßführung, herausfordernde Streckenführung. Unvergessliches Morgenlicht im Jahre 2014 und Nebel und Regen im Jahre 2015. Beide Paßquerungen sind eindrücklich in unserem Gedächtnis geblieben. Übernachtung im Hausboot in frn fantastischen Hausbooten am Dal See bei Srinagar.
It's a big day so we start early today through Drass onto Srinagar, the second coldest inhabited place on earth where you'll have spectacular views of Kargil's famous Peaks, Tiger Hill and Tololing Peak. We cross Zozi La (3033 M) to enter Srinagar Valley which is an amazing experience. We arrive in Srinagar in the evening after passing through the beautiful Sonmarg. We stay overnight on a houseboat.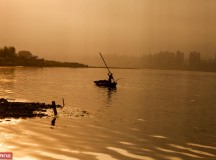 Tag 12 (07 August 2018, Freitag) Von Sri Nagar nach Delhi (und nach Deutschland, wenn gewünscht).

Ende einer der faszinierensten Motorradreisen des Planeten in einer der faszinierensten Regionen der Welt.
Rückflug nach Dehli.Gegen Mittag erreichen wir Dehli. Wenn gewünscht, sind noch am gleichen Tag Rückflüge nach Europa möglich.
That's it folks, you've just completed one of the most extreme motorcycle expeditions in the world. You've crossed the world's three highest motor able passes, seen huge hanging glaciers, ridden by high-altitude lakes and immersed yourself in the colourful cultures of Himachal and Ladakh.
******TOUR ENDE / TOUR ENDS******